News
NSCA exhibited at Aeromart Nagoya 2017.
The Niigata Sky Component Association attended Aeromart Nagoya 2017, an aerospace industry B to B meeting event held by BCI AEROSPACE in Nagoya, Japan. During the event, NSCA had meetings with 8 Japanese manufacturers and 10 overseas manufacturers.
■Dates:
September 26 (Tue) – 28 (Thu), 2017
■Venue:
Nagoya Trade & Industry Center, Fukiage Hall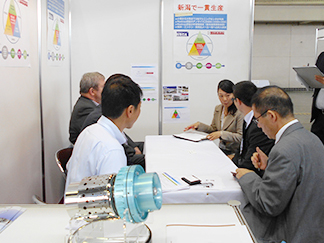 8 machining centers will be newly added to NSCA.
With the financial help from Niigata city, 8 new 5-axis machining centers will be installed to NSCA in order to expand the range of capable work. The installation is planned to be completed by the end of January, 2018 and the machines will be in operation from February.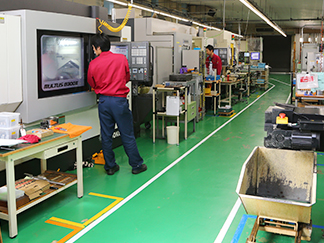 Sample image from the head factory of Sado Seimitsu,
a member of NSCA
Niigata Metallikon achieved Nadcap accreditation.
Our integrated production system became even stronger.
In June 2017, Niigata Metallikon, one of the NSCA member companies specialized in the field of surface treatment, achieved Nadcap accreditation. The accredited surface treatment is sulfuric acid anodizing and chemical conversion coating, which is planned to go into operation by the end of the year.

Nadcap (National Aerospace and Defense Contractors Accreditation Program) is a global accreditation program in the aerospace industry that is habitually required from many aircraft manufacturers to their suppliers of special processes to participate in. The program aims for maintaining the quality of suppliers attending Nadcap.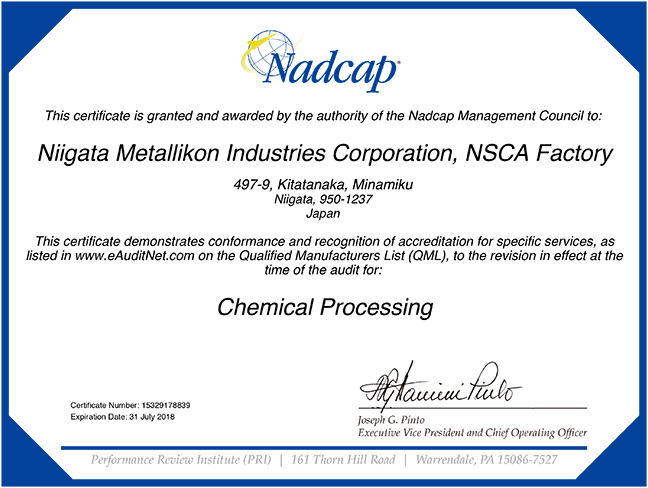 Visit to the major manufacturers in the U.S.
In November 2016, we, the NSCA, visited some major manufacturers in the U.S. including the Boeing Everett Factory, Sprit Aerosystems Inc., and Textron Inc. to take a close look at the current aerospace industry situation.
At this visit, we received a purchase order for preproduction sample making.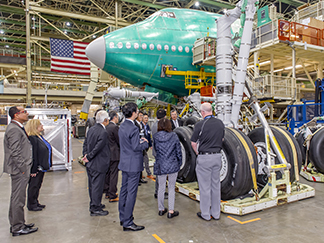 NSCA participated in Japan International Aerospace Exhibition 2016.
Thank you for coming to our booth (named as "NIIGATA SKY PROJECT") at JA2016. We were pleased that we got much more business opportunities than expected.
Please stay tuned to our activity. We continue to make every effort to move forward.
■Dates:
October 12 (Wed) – 15 (Sat), 2016
■Times:
9 : 30 - 17 : 30 (12 : 00 - 17 : 30 on Wed)
■Venue:
Tokyo Big Sight West Exhibition Hall
■Booth:
West Hall 2 W2 -012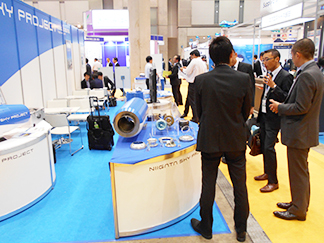 Celebrating the Opening of Niigata City Aerospace Parts and Equipment Factory
On May 13, 2016, a lively opening ceremony was held for Niigata City Aerospace Parts and Equipment Factory, in which the aviation industry cluster NSCA is housed.The numerous attendees and coverage from mass media reaffirmed how much is anticipated of us. As the mayor of Niigata City, Mr. Shinoda, remarked "The aviation industry will become a major pillar of industry for the Niigata region." We, the NSCA, will continue to strive to carry the burden of that pillar. Your continued support is most appreciated.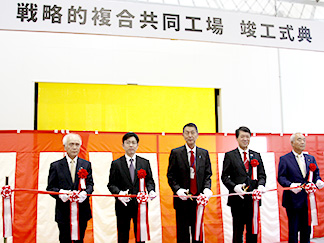 The installation of a large, three-dimensional measuring device capable of measuring up to 3000 mm
In late April of 2016, the latest model of a large, three-dimensional measuring device was installed in the Strategic Compound Factory.In order to measure items such as airplane body parts made in the large cutting machine placed next to it, this new measuring device is capable of measuring up to 3000 x 1600 x 1200 mm with precise measurements down to 1/1000 mm. In addition, this measuring device has the software capability to record the 3D models' tolerance information then automatically generate a measurement program, which can shorten the work time drastically.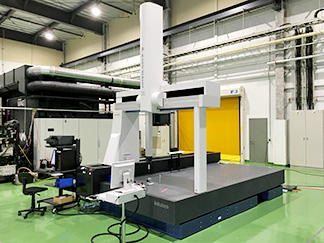 Completion of a surface treatment facility capable of handling a variety of parts in the aviation industry.
In late March of 2016, the surface treatment facility and the painting facility in the Strategic Compound Factory were completed. After test operations, the actual machining of the ordered parts will begin. The surface treatment facility is the latest model and it can handle not only aircraft engine and body parts, but also fixtures for galleys, lavatories, and seats. Twenty-nine 3500 x 1500 x 800 mm treatment tanks, capable of handling large parts, are placed in a U-shape. These large tanks can handle the surface treatments of multiple smaller parts at once, which can improve the price competitiveness of our machining. In addition, the facility's processing can meet the latest environmental standards of aircraft makers, such as boric sulfuric acid anodizing.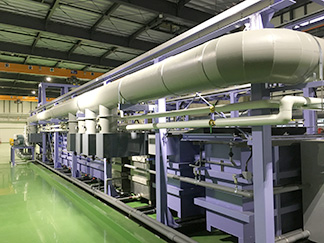 NSCA was covered on the NHK program "Frontline of Economy"
In the TV program, Frontline of Economy, which was broadcast at 10:00 PM on January 23, 2016, NSCA was introduced as a representative case of clusters working on the integrated manufacturing of aircraft parts. On the program, they explained that "with the participation of SMEs, the aviation industry can grow into a core industry of Japan."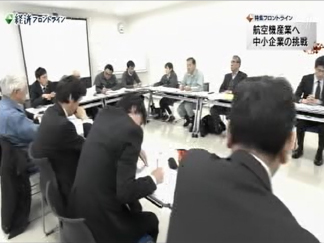 The activities of NSCA were introduced on the NHK news.
On NHK News at 6:00 PM on December 8, 2015, they covered NSCA and said "In Niigata, they are taking on the aviation industry, which has been centered around the West. Niigata City Aerospace Parts and Equipment Factory that NSCA is housed in will be the base for machining aircraft parts."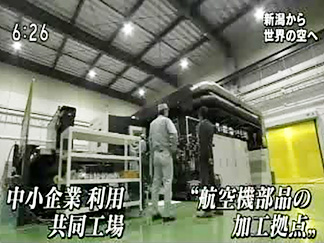 NSCA is building an integrated manufacturing system for aircraft-related parts.
Companies that specialize in every variety of machine processing gathered in Niigata to form the aviation industry cluster, NSCA. Using their outstanding techniques, they are building an integrated manufacturing system, which includes special processing, while they strive towards manufacturing aircraft-related parts.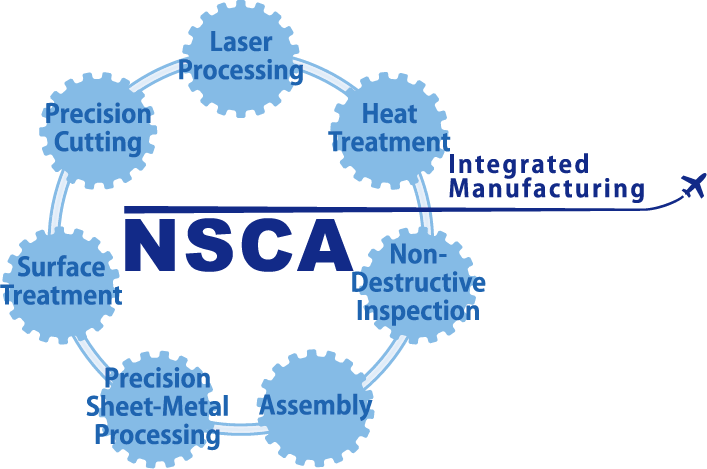 Member Companies of NSCA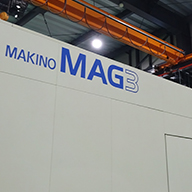 Precision Cutting
With 80 years of history as a maker of hydraulic machines, we possess great knowledge about precision parts machining.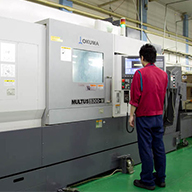 Precision Cutting
We have been operating on Sado Island for 45 years, working on metal precision parts machining with the latest facilities.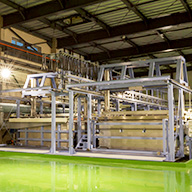 Surface Treatment
Since our founding in 1950, we have specialized in metal surface processing and contributed to the world of manufacturing.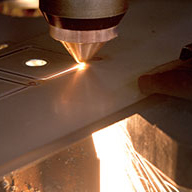 Laser Processing
In 1983, we brought innovation to the field of precision sheet-metal processing by installing one of the earliest laser processors in Japan.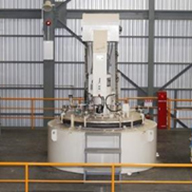 Heat Treatment
For more than 40 years, we have been refining our techniques for the heat treatment of heavy-industry parts, such as machine tools and construction equipment manufacturing, which are core industries in Japan.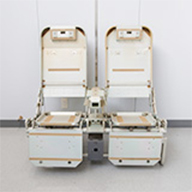 Precision Sheet-Metal Processing, Assembly
For nearly 30 years, we have been producing sheet-metal parts and cutting parts for aircraft seats.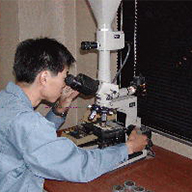 Non-Destructive Inspection
For more than 40 years, we have been conducting non-destructive inspections on everything from all kinds of structures and chemical plants, down to small objects.
Facilitation of the Joint Acceptance of Orders at NSCA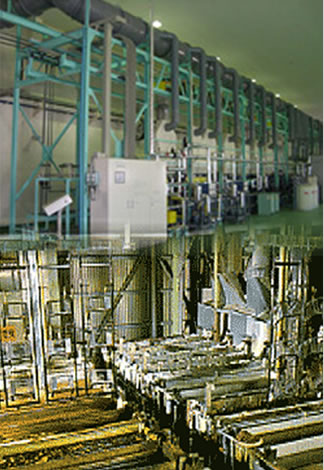 With Niigata City Aerospace Parts and Equipment Factory as the core, we provide competitive parts processing and assembly by assigning each step of manufacturing- processing, machining, and assembly- to the member company that specializes in it.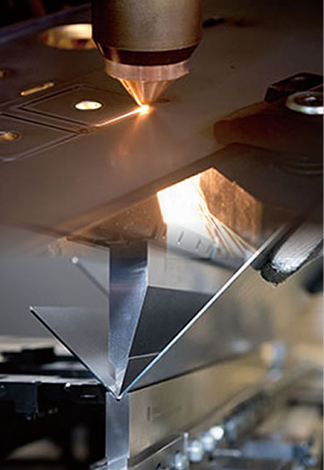 In the future, with support from local companies, we are aiming to construct a complete integral production system for aircraft parts, and establish NSCA as a supplier of aircraft parts.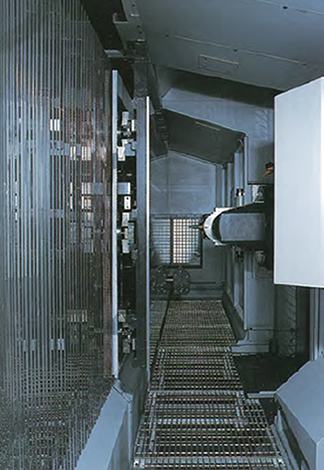 By nurturing human resources to include production managers, engineers specializing in aircrafts, engineers who have sufficient language skills to acquire Nadcap, as well as a sales force—we will establish trading relationships with overseas aircraft-related companies.